GET A FREE LESSON
EVERY WEEK

Do You Mean…? - August 02, 2021
Lesson Collection #4 - Lesson 14a
Time:
25+|
Level:
JHS~Adult|
Mode:
Pair Work Activity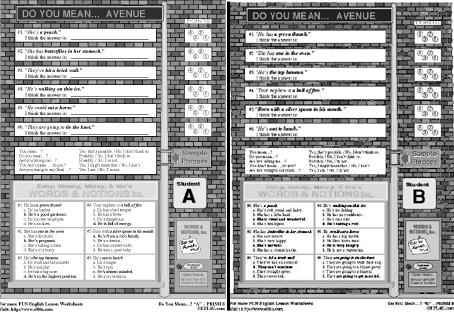 When receiving information, it's always a good idea to confirm and/or ask for clarification when in doubt.
This pair work lesson is a wonderful and fun way to practice working with phrases of confirmation and responses of possibility while working with common idiomatic metaphors.
At the top of each worksheet are six common English metaphors which many students will not know. At the bottom of the worksheets are six corresponding answer lists, each with four possible answers.
Students have to work together closely to be able to identify the correct meaning to each metaphor. To do that, they have to ask for confirmation and clarification as well as express phrases of possibility, including:
You mean...?
Do you mean...?
Are you telling me...?
You don't mean..., do you?
Are you trying to say...?

There is even a point system built into the lesson to encourage students to guess the meaning of the idioms as quickly as possible.

This is a very practical and fun lesson, and best of all, the students will be busy, not you!

There is a similar lesson:
Are You Telling Me...? (See Lesson 14b below).
What Makes Our Lessons Different?
Teachers Save Time

Reduce lesson planning and gain freedom in the classroom. With all students busy, the teacher can casually roam around the classroom and offer assistance wherever needed.
Students Learn by Doing

Minutes after beginning each lesson, classes often become noisy. At times, very noisy. Why? Students, in pairs or small groups, actively engage in completing the lesson task. They use English to learn English.
Listening, Speaking, Reading & Writing

Oral communication is important. Listening and speaking have priority in our lessons; students need to carefully listen to each other. Reading is also important for the success of the lessons. The amount of writing required varies.
Fun for Teachers & Students

We believe students learn better when having fun. Our lessons range from silly to serious but each has a solid task-specific educational goal including grammar usage, vocabulary building and fluency improvement to name a few.
Special Offer: The Juicy Book of Lessons
The Juicy Book of lessons is an e-book packed with over 1,000 ready to use lessons, games, ice breakers and activities for the ESL / EFL classroom. An English teacher's MUST HAVE for those times when you're running short of ideas.





Only $9:90
Subscribe to the mailing list above to get a new free lesson every week
Hey Kurt,
Your lesson worksheets are the best EFL resource I've ever used!
Margaret Holt
From Australia

Hi Kurt,
After reading the other testimonials, I really agree with them! I have taught ESL for 20+ years and I am always looking for exciting materials for my adult students. Your worksheets have hit the jackpot! They have captured the attention of my adult students. Observing them last night with the adjective synonyms, they were staying past the dismissal time and working to explore and complete the worksheet. Thank you, Thank you.
Kathleen Rathbun
From Seattle, USA

Dear Kurt,
Your lessons are awesome!!!!
I just translate them over to Spanish and they work like a charm.
Gail Tuthill
From St. Charles, MI.

Dear EFL4U,
I sincerely thank you and your entire team of wonderful professionals who are contributing tremendously to making the teaching of English a lot more fun and easy!
Richard Ment
From South Korea

Dear Kurt,
I'd like to tell you that I find the activities wonderful. I teach young learners, adolescents, young adults, adults… and they work with all of them. All the lessons and worksheets are very creative and they foster my students' motivation and participation.
Congratulations!!
Julieta Pagani
From Buenos Aires, Argentina