GET A FREE LESSON
EVERY WEEK

Who Lives Here? (2) - August 03, 2020
Paid LessonLesson Collection #3 - Lesson 8b
Time:
Varies|
Level:
JHS~Adult|
Mode:
Pair / Group Activity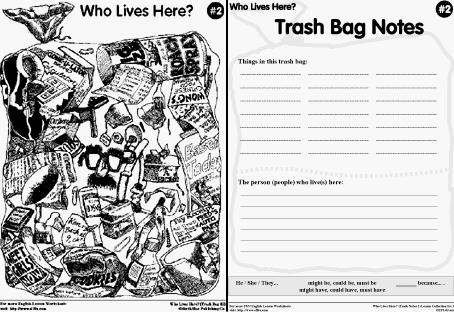 The purpose of this lesson is to get students involved in imagining or speculating about the trash bag owners, i.e., how many people live in this apartment / house, how old they are, what their names are, what their hobbies are, what jobs they have, what kind of things they like or don't like, what kind of personalities they might have. There are no right or wrong answers, merely hints to guide students' imagination.
Vocabulary development -- there are dozens of common, everyday household items illustrated on these worksheets. See how many students can identify them in English. This is also useful for working with speculative opinions, "I think the person who lives here is a young male because... ".
The answer to Who Lives Here #2 is probably two young single men.
Some of the items in the trash are:
a take out box of Chinese food
cockroach killer spray
a Baseball Today magazine
a tube of acne remover -and-
plastic forks and spoons

Students can also practice the following phrases:
might be, could be and must be as well as
might have, could have and must have.

There are four delightfully illustrated worksheets in this series. They are:
Who Lives Here? (1) (See Lesson 08a above)
Who Lives Here? (3) (See Lesson 08c below) -and-
Who Lives Here? (4) (See Lesson 08d below).
What Makes Our Lessons Different?
Teachers Save Time

Reduce lesson planning and gain freedom in the classroom. With all students busy, the teacher can casually roam around the classroom and offer assistance wherever needed.
Students Learn by Doing

Minutes after beginning each lesson, classes often become noisy. At times, very noisy. Why? Students, in pairs or small groups, actively engage in completing the lesson task. They use English to learn English.
Listening, Speaking, Reading & Writing

Oral communication is important. Listening and speaking have priority in our lessons; students need to carefully listen to each other. Reading is also important for the success of the lessons. The amount of writing required varies.
Fun for Teachers & Students

We believe students learn better when having fun. Our lessons range from silly to serious but each has a solid task-specific educational goal including grammar usage, vocabulary building and fluency improvement to name a few.
Special Offer: The Juicy Book of Lessons
The Juicy Book of lessons is an e-book packed with over 1,000 ready to use lessons, games, ice breakers and activities for the ESL / EFL classroom. An English teacher's MUST HAVE for those times when you're running short of ideas.





Only $9:90
Subscribe to the mailing list above to get a new free lesson every week
I have used your lessons with a large range of classes including pre-school, business and everything in between.
I'm EXTREMELY IMPRESSED with your Lesson Worksheets and am happy to be the proud owner of the entire Lesson Collection Sets!
Thank you very much,
Lisa Jensen
EFL Teacher, Japan

Dear Kurt,
Your site is absolutely great, my students love your worksheets and we all have learned a lot. Congratulations to the whole staff for a marvelous job.
Thanks a lot….Laura
My email: Mrs. Laura de Montes
From Mexico

Dear Kurt,
A HUGE THANKS !!
Because of what you do at EFL4U, my school is one of the best in the city. I think it's really important for students to have fun, to act, to react and learn English by using it! With your active lessons, my students do all of that, and more….
Grammar is taught after or before the lessons… and all of my students learn while having lots of fun.
Kurt, EFL4U IS THE BEST THING THAT I HAVE RECEIVED. EVERY YEAR, YOU ARE MY SANTA CLAUS.
Betty Tokeshi - EFL Teacher
From Presidente Prudente - Brazil

Hey Kurt,
This is absolutely the best site i've ever seen for EFL teaching materials!
Thanks so much!
Kate
From South Korea

Dear Kurt,
I have been teaching English in Latvia for 5 years now to such varied student groups as Music College, military and Bible College students. I came across your site about a year ago and it has been incredibly helpful in my teaching. I have found all of my students - from the highest ranking military officer to the most ordinary school-kid - enjoy your lessons. The worksheets and the ideas are fantastic! Thank you so much for making the English teacher's work easier, more varied and much more enjoyable!!!
Inga Zirka
From Latvia