GET A FREE LESSON
EVERY WEEK

Magic Auction (Present Tense) - August 19, 2019
Paid LessonLesson Collection #1 - Lesson 1b
Time:
40+|
Level:
SHS~Adult|
Mode:
:
Group Activity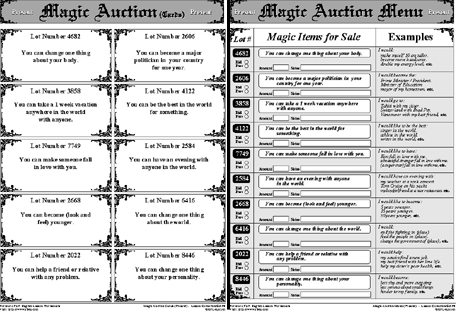 These Magic Items are useful right now. The items listed on the Auction Menu Worksheet describe the items for sale along with examples for students to customize the items according to their desires.
Students can bid for these items in the auction and, if the winner, can either use them for themselves, or can sell them for a profit.
The second worksheet (to be cut into cards) shows the Actual Items that students can purchase.
Here are some examples of items for sale:
You can have an evening with anyone in the world.
You can make someone fall in love with you.
You can change one thing about your personality.
Students first decide which items they want from the Auction Menu Worksheet.
Then the Auction begins (see Magic Auction - Past Tense above for a description).
For similar style lessons, see:
Magic Auction (Past Tense) (see Lesson 1a above)
Magic Auction (Future Tense) (see Lesson 1c below).
What Makes Our Lessons Different?
Teachers Save Time

Reduce lesson planning and gain freedom in the classroom. With all students busy, the teacher can casually roam around the classroom and offer assistance wherever needed.
Students Learn by Doing

Minutes after beginning each lesson, classes often become noisy. At times, very noisy. Why? Students, in pairs or small groups, actively engage in completing the lesson task. They use English to learn English.
Listening, Speaking, Reading & Writing

Oral communication is important. Listening and speaking have priority in our lessons; students need to carefully listen to each other. Reading is also important for the success of the lessons. The amount of writing required varies.
Fun for Teachers & Students

We believe students learn better when having fun. Our lessons range from silly to serious but each has a solid task-specific educational goal including grammar usage, vocabulary building and fluency improvement to name a few.
Special Offer: The Juicy Book of Lessons
The Juicy Book of lessons is an e-book packed with over 1,000 ready to use lessons, games, ice breakers and activities for the ESL / EFL classroom. An English teacher's MUST HAVE for those times when you're running short of ideas.





Only $9:90
Subscribe to the mailing list above to get a new free lesson every week
My life as an English teacher changed dramatically when I purchased all of the great lessons from EFL4U.com. I use them constantly! My students always light up when I bring one to class. Truly fab. Fun, creative, educational.
Pascal Benedict
Martinique, France
Hi Kurt,
Your collection of lesson worksheets is really great. It makes my teaching much easier and funnier. I work in an International House School in Ukraine. We all enjoy your lessons, especially our students. Your illustrations are just great.
Helen Svetlichnaya - EFL Teacher
From Ukraine

Hey Kurt,
Your lesson worksheets are the best EFL resource I've ever used!
Margaret Holt
From Australia

Thanks for all your lessons. They have been a great help.
My students and I have lots of fun using them.
Julie
From Italy

I use your activities a lot with my students and they find them really motivating!!!
They ask for them!!!!!! =) They have real fun!!!
Thanks to you, Kurt.
Nil
From Argentina