GET A FREE LESSON
EVERY WEEK

Conrad the Caterpillar - January 17, 2022
Lesson Collection #4 - Lesson 22
Time:
40+|
Level:
SHS~Adult|
Mode:
Pair Work Activity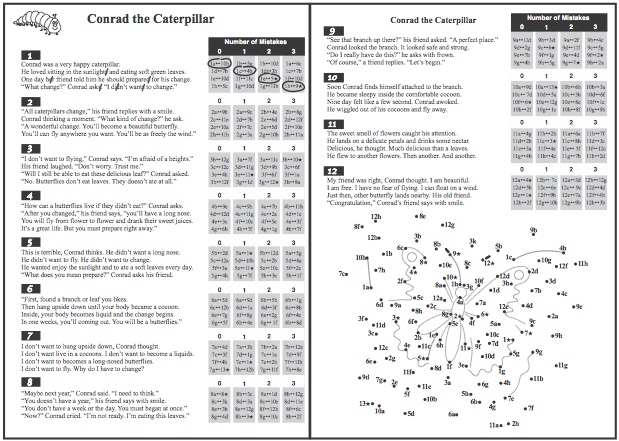 This active lesson is all about finding grammar and syntax errors in a short story about Conrad the Caterpillar. In pairs, students work together to identify which story lines within each section have 1) no mistakes, 2) one mistake, 3) two mistakes and 4) three mistakes.

Some of the mistakes involve incorrect verb tenses, others include subject/verb agreement, inaccurate pronouns, count vs. non-count nouns and single vs. plural nouns.

Once a mistake has been identified, students use the following phrase to explain the error: I think (mistake) should be (correction).

After students have identified all of the mistakes, they turn their attention to the second page of the worksheet which has a lot of numbered dots. According to the mistakes students found, they now connect the dots. If all goes well, they should see an image of a butterfly slowly begin to appear on the worksheet. Students will immediately know they've made a mistake (mistakes) if the final butterfly doesn't look right.
What Makes Our Lessons Different?
Teachers Save Time

Reduce lesson planning and gain freedom in the classroom. With all students busy, the teacher can casually roam around the classroom and offer assistance wherever needed.
Students Learn by Doing

Minutes after beginning each lesson, classes often become noisy. At times, very noisy. Why? Students, in pairs or small groups, actively engage in completing the lesson task. They use English to learn English.
Listening, Speaking, Reading & Writing

Oral communication is important. Listening and speaking have priority in our lessons; students need to carefully listen to each other. Reading is also important for the success of the lessons. The amount of writing required varies.
Fun for Teachers & Students

We believe students learn better when having fun. Our lessons range from silly to serious but each has a solid task-specific educational goal including grammar usage, vocabulary building and fluency improvement to name a few.
Special Offer: The Juicy Book of Lessons
The Juicy Book of lessons is an e-book packed with over 1,000 ready to use lessons, games, ice breakers and activities for the ESL / EFL classroom. An English teacher's MUST HAVE for those times when you're running short of ideas.





Only $9:90
Subscribe to the mailing list above to get a new free lesson every week
Hi Kurt,
After reading the other testimonials, I really agree with them! I have taught ESL for 20+ years and I am always looking for exciting materials for my adult students. Your worksheets have hit the jackpot! They have captured the attention of my adult students. Observing them last night with the adjective synonyms, they were staying past the dismissal time and working to explore and complete the worksheet. Thank you, Thank you.
Kathleen Rathbun
From Seattle, USA

Dear Kurt,
Your site is absolutely great, my students love your worksheets and we all have learned a lot. Congratulations to the whole staff for a marvelous job.
Thanks a lot….Laura
My email: Mrs. Laura de Montes
From Mexico

Hey Kurt,
Your lesson worksheets are the best EFL resource I've ever used!
Margaret Holt
From Australia

Hi Kurt,
That's one of the greatest ESL sites on the web (the best one when it comes to activities).
Caio Cesar Christiano
From Brazil

Hello Kurt,
I'm very impressed with the amount of work you have invested in these excellent lesson worksheets. Your efforts have resulted in some very fine material which my students enjoy. Thanks!
Jim
From China