GET A FREE LESSON
EVERY WEEK

My Secret - I Am - June 13, 2021
Paid LessonLesson Collection #4 - Lesson 8b
Time:
30+|
Level:
JHS~Adult|
Mode:
Small Group Activity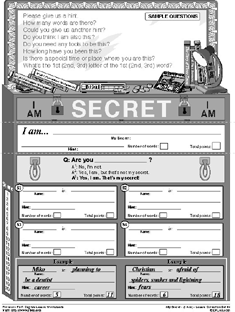 This fun lesson is perfect for lower-level ability students to work with "Be-verbs". For example:
I am hungry!(For adjectives)
I am planning to go to the movies tonight.(For verbs)
I am a stamp collector.(For nouns)
Students can practice Q&A's using "Are you...?" and "Yes, I am," or "No, I'm not."
Students will have a fun time trying to find each others' secrets, and the competition for points really turns this lesson into an activity.
With a simple change of directions, students can easily practice past tense I was... as a replacement for I am...
There are three additional 'My Secret' lessons. They are:
My Secret - I Can (See Lesson 08a above)
My Secret - I Will (See Lesson 08c below) -and-
My Secret - I Have (See Lesson 08d below).


What Makes Our Lessons Different?
Teachers Save Time

Reduce lesson planning and gain freedom in the classroom. With all students busy, the teacher can casually roam around the classroom and offer assistance wherever needed.
Students Learn by Doing

Minutes after beginning each lesson, classes often become noisy. At times, very noisy. Why? Students, in pairs or small groups, actively engage in completing the lesson task. They use English to learn English.
Listening, Speaking, Reading & Writing

Oral communication is important. Listening and speaking have priority in our lessons; students need to carefully listen to each other. Reading is also important for the success of the lessons. The amount of writing required varies.
Fun for Teachers & Students

We believe students learn better when having fun. Our lessons range from silly to serious but each has a solid task-specific educational goal including grammar usage, vocabulary building and fluency improvement to name a few.
Special Offer: The Juicy Book of Lessons
The Juicy Book of lessons is an e-book packed with over 1,000 ready to use lessons, games, ice breakers and activities for the ESL / EFL classroom. An English teacher's MUST HAVE for those times when you're running short of ideas.





Only $9:90
Subscribe to the mailing list above to get a new free lesson every week
Hi Kurt,
After reading the other testimonials, I really agree with them! I have taught ESL for 20+ years and I am always looking for exciting materials for my adult students. Your worksheets have hit the jackpot! They have captured the attention of my adult students. Observing them last night with the adjective synonyms, they were staying past the dismissal time and working to explore and complete the worksheet. Thank you, Thank you.
Kathleen Rathbun
From Seattle, USA

I haven't yet found any materials which are as exciting and as ready to use as yours!
Joy Jarmen
From Japan

Dear Kurt,
Congratulations! Your lesson worksheets are SUPERB!!! My students really enjoy them and are thrilled with the fun activities. I really can't say enough. Your worksheets are some of the best bargains on the Net. Thanks again for offering these fun and refreshing lessons to ESL EFL teachers on a weekly basis. Best wishes; keep up the great work!
Sincerely,
Chris Polonis - ESL Teacher
From Toronto, Canada

Hi Kurt!,
What a wonderful site you've got there, thanks for all the great ideas. I teach high school girls who really dislike studying, but even they manage to get some enjoyment from these lessons.
We EFL teachers need more sites like these.
I integrate your lessons into my syllabus so girls never get bored. For them, English should be entertainment and while most textbooks are short on that, your lessons are not.
Keep up the wonderful work!
Regards,
Elizabeth Longo Seong Am Girls' Information Industrial High School
From Seoul, Korea

Dear EFL4U,
Just to let you know, I surf the web all the time. Your site is still the only one I tell my friends and colleagues about. It's the only one really worth it! This is not flattery. Just honest. Ask my students, they'll tell you, too! You've got to be a genius,
Vlad Gobronzchek
From the USA