GET A FREE LESSON
EVERY WEEK

Backs or Box - December 09, 2019
Lesson Collection #1 - Lesson 17b
Time:
50+|
Level:
JHS~Adult|
Mode:
Pair Work Activity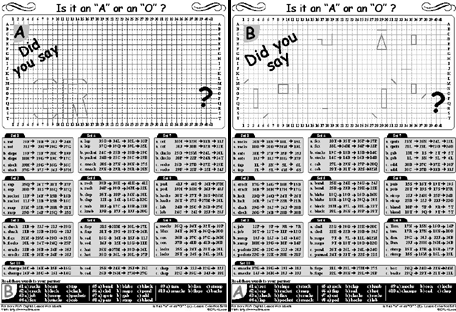 In pairs, students practice the pronunciation of the two vowel sounds backs and box.
There are dozens of paired words on the worksheets, one student reads one of the pair while the other tries to distinguish which of the two words was said.
Some of the paired words are:
packet and pocket,
stacks and stocks,
pad and pod, and
clack and clock.
Built into this lesson is a kind of puzzle which motivates students and instantly confirms their pronunciation and listening accuracy.
Although accurate pronunciation and listening are at the core of this lesson, students will also enjoy completing the puzzle.
What Makes Our Lessons Different?
Teachers Save Time

Reduce lesson planning and gain freedom in the classroom. With all students busy, the teacher can casually roam around the classroom and offer assistance wherever needed.
Students Learn by Doing

Minutes after beginning each lesson, classes often become noisy. At times, very noisy. Why? Students, in pairs or small groups, actively engage in completing the lesson task. They use English to learn English.
Listening, Speaking, Reading & Writing

Oral communication is important. Listening and speaking have priority in our lessons; students need to carefully listen to each other. Reading is also important for the success of the lessons. The amount of writing required varies.
Fun for Teachers & Students

We believe students learn better when having fun. Our lessons range from silly to serious but each has a solid task-specific educational goal including grammar usage, vocabulary building and fluency improvement to name a few.
Special Offer: The Juicy Book of Lessons
The Juicy Book of lessons is an e-book packed with over 1,000 ready to use lessons, games, ice breakers and activities for the ESL / EFL classroom. An English teacher's MUST HAVE for those times when you're running short of ideas.





Only $9:90
Subscribe to the mailing list above to get a new free lesson every week
Dear Kurt,
I love the lessons. We all enjoy the energizing conversations, as well as the great page layout and
useful extensions. Thanks.
Victoria Coulter - ELP Adult Literacy Instructor
From Georgia, USA

Hi Kurt,
Your collection of lesson worksheets is really great. It makes my teaching much easier and funnier. I work in an International House School in Ukraine. We all enjoy your lessons, especially our students. Your illustrations are just great.
Helen Svetlichnaya - EFL Teacher
From Ukraine

Kurt,
I just wanted to say that I think that the lessons you have on your site are great. I have found that the lessons work well in class and my students really enjoy them.
Laura
From Paris, France

Hi Kurt,
That's one of the greatest ESL sites on the web (the best one when it comes to activities).
Caio Cesar Christiano
From Brazil

Hey Kurt,
This is absolutely the best site i've ever seen for EFL teaching materials!
Thanks so much!
Kate
From South Korea