GET A FREE LESSON
EVERY WEEK

Experiences (Passive) - June 01, 2020
Lesson Collection #1 - Lesson 13b
Time:
Varies|
Level:
JHS~Adult|
Mode:
Pair Work Activity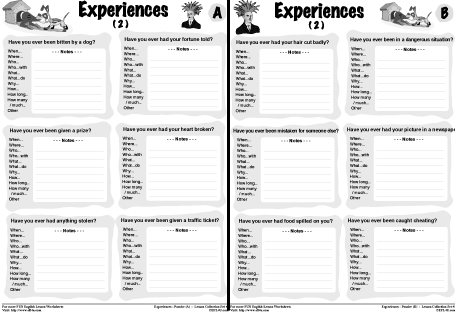 There are 12 more experiences for pairs of students to discuss - but these are in the passive form of Have you ever had / been (pp)... by someone? questions using the present perfect tense and then follow up the questions with simple past tense questions.
A typical conversation might sound like this:
Student A: Have you ever been bitten by a dog?
Student B: Yes, I have.
Student A: When were you bitten?
Student B: I was bitten when I was 12.
Student A: Where were you bitten?
Student B: I was bitten on my leg.
Student A: Which one?
Student B: My left leg.
Student A: What kind of dog were you bitten by?
Student B: It was a mutt.
Student A: Whose dog was it?
Student B: It was my neighbor's dog.
Student A: Did you go to a doctor?
Student B: No, it wasn't that serious.
Student A: What were you doing when you were bitten?
Student B: I was playing in the yard.
Student A: Did you tell your neighbor that you were bitten?
Student B: I was playing with my neighbor's kids and they saw it happen. etc.
There are six Have you ever had / been... by someone? questions on each worksheet. Students will really enjoy discussing their experiences and asking questions about others. Discussing experiences in the passive voice is a bit more difficult than regular voice, nevertheless, this lesson is a wonderful tool to get students talking.
There is another similar worksheet available. It is:
Experiences 1 (Normal) (See 13a above).
What Makes Our Lessons Different?
Teachers Save Time

Reduce lesson planning and gain freedom in the classroom. With all students busy, the teacher can casually roam around the classroom and offer assistance wherever needed.
Students Learn by Doing

Minutes after beginning each lesson, classes often become noisy. At times, very noisy. Why? Students, in pairs or small groups, actively engage in completing the lesson task. They use English to learn English.
Listening, Speaking, Reading & Writing

Oral communication is important. Listening and speaking have priority in our lessons; students need to carefully listen to each other. Reading is also important for the success of the lessons. The amount of writing required varies.
Fun for Teachers & Students

We believe students learn better when having fun. Our lessons range from silly to serious but each has a solid task-specific educational goal including grammar usage, vocabulary building and fluency improvement to name a few.
Special Offer: The Juicy Book of Lessons
The Juicy Book of lessons is an e-book packed with over 1,000 ready to use lessons, games, ice breakers and activities for the ESL / EFL classroom. An English teacher's MUST HAVE for those times when you're running short of ideas.





Only $9:90
Subscribe to the mailing list above to get a new free lesson every week
Dear Kurt,
I love the lessons. We all enjoy the energizing conversations, as well as the great page layout and
useful extensions. Thanks.
Victoria Coulter - ELP Adult Literacy Instructor
From Georgia, USA

My life as an English teacher changed dramatically when I purchased all of the great lessons from EFL4U.com. I use them constantly! My students always light up when I bring one to class. Truly fab. Fun, creative, educational.
Pascal Benedict
Martinique, France
I love your material and use it often. Your material is the best on the web and a great value. I hope to see more material in the near future.
Once again thanks,
Mike Stockwell
From Gifu, Japan

I have been using these fun EFL4U lessons since the site began many years ago! Apart from making my life easier where time is concerned, the lessons are really well prepared, educational, fun to use and my students love them!
Well done, Kurt!
Jocema Lima
Curitiba, Brazil
Dear Kurt,
The result of your workseets in the classroom is amazing. Students go crazy about this new kind of practice material, which is completely different from what they can find in Textbooks.
On the other hand, all worksheets foster speaking and interactions, which are so difficult to achive. I hope this site will keep on working hard to provide us, not so imaginative teachers, with ready-made quality material for use in the classroom.
Congratulations!
María
From Argentina