GET A FREE LESSON
EVERY WEEK

Homophones #2 (Not so easy) - May 20, 2019
Paid LessonLesson Collection #5 - Lesson 1b
Time:
20+|
Level:
JHS~Adult|
Mode:
Pair Work Activity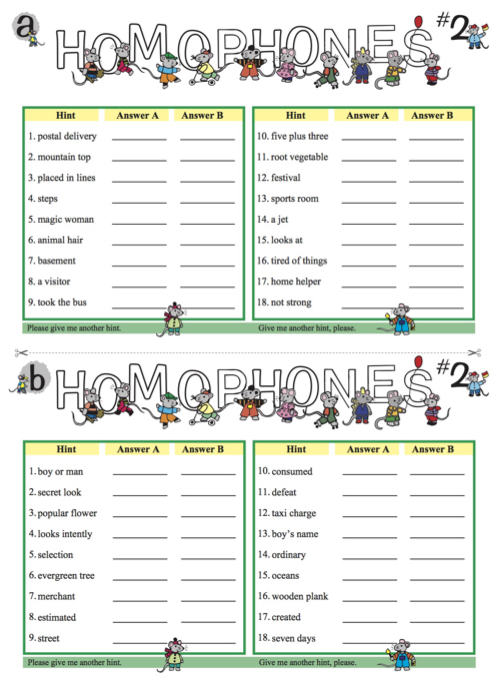 Pairs of students offer hints to their partners in order to identify paired homophones. Along the way, they will be building their vocabulary, listening and spelling skills. For example:
Student A: steps.
Student B: looks intently.

Together they think of all the synonyms they can to find one pair of words with the same pronunciation.

In this case, the answers are:
stairs steps.
stares looks intently.

There are a total of 18 paired homonyms on this worksheet.

There are four additional "Homophones" lessons available. They are:
Homophones #1 (easy) (See Lesson 01a above)
Homophones #3 (difficult) (See Lesson 01c below).
Homophones #4 (difficult) (See Lesson 01d below) -and-
Homophones #5 (mixed difficulty) (See Lesson 01e below).


What Makes Our Lessons Different?
Teachers Save Time

Reduce lesson planning and gain freedom in the classroom. With all students busy, the teacher can casually roam around the classroom and offer assistance wherever needed.
Students Learn by Doing

Minutes after beginning each lesson, classes often become noisy. At times, very noisy. Why? Students, in pairs or small groups, actively engage in completing the lesson task. They use English to learn English.
Listening, Speaking, Reading & Writing

Oral communication is important. Listening and speaking have priority in our lessons; students need to carefully listen to each other. Reading is also important for the success of the lessons. The amount of writing required varies.
Fun for Teachers & Students

We believe students learn better when having fun. Our lessons range from silly to serious but each has a solid task-specific educational goal including grammar usage, vocabulary building and fluency improvement to name a few.
Special Offer: The Juicy Book of Lessons
The Juicy Book of lessons is an e-book packed with over 1,000 ready to use lessons, games, ice breakers and activities for the ESL / EFL classroom. An English teacher's MUST HAVE for those times when you're running short of ideas.





Only $9:90
Subscribe to the mailing list below to get a new free lesson every week
Hi Kurt,
I just want to thank you for all your hard work on the website & the many ideas & worksheets you provide for ESL teachers all over the world.
Thanks again,
Karen G.
From Georgia, USA

Dear Kurt,
Your lessons are professionally done and most of all fun!
We all find your materials more than just a fun filler even though they do liven things up.
I post each of your lessons on a teacher's exchange board Mondays at school for the other trainers. The feedback has been nothing but praise.
Keep up the good work.
Margaret Ann Doty - EFL Trainer
From Darmstadt, Germany

Hi Kurt,
That's one of the greatest ESL sites on the web (the best one when it comes to activities).
Caio Cesar Christiano
From Brazil

Dear Kurt,
Your EFL4U activities are honestly among the very best that I've discovered on the web. They are consistently imaginative, high quality and engaging. The students are motivated and the classes are lively.
Sherry Maisey - ESL instructor
From Vancouver, Canada

Hi Kurt,
After reading the other testimonials, I really agree with them! I have taught ESL for 20+ years and I am always looking for exciting materials for my adult students. Your worksheets have hit the jackpot! They have captured the attention of my adult students. Observing them last night with the adjective synonyms, they were staying past the dismissal time and working to explore and complete the worksheet. Thank you, Thank you.
Kathleen Rathbun
From Seattle, USA


JOIN OUR MAILING LIST
Receive an email every week with access to a new English lesson plan or worksheet.