GET A FREE LESSON
EVERY WEEK

A Snack Between Meals - February 22, 2021
Paid LessonLesson Collection #4 - Lesson 18b
Time:
20+|
Level:
JHS~Adult|
Mode:
Pair / Group Activity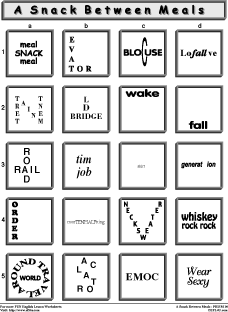 This is a very short and sweet lesson that is always popular with students of almost every English ability. There are 20 common expressions on this worksheet, each presented as a puzzle such as generation gap, Railroad Crossing and Fall In Love.
To decipher these puzzles, pairs or groups of students have to look at the placement, size and position of the letters and/or words. For example, here's the puzzle for Fall In Love.

Notice how the word Fall is set directly in the middle of the word Lo ve? Fall is in the middle of Love so the answer to this puzzle is: Fall "In" Love.
Here's a tricky one:

The letter L is ON the letter D and the letter D is ON the word BRIDGE thus "L on D on" BRIDGE which comes to: LONDON BRIDGE. Cute, huh?
There is a similar worksheet. It is:
Once Upon A Time (Lesson 18a above).
What Makes Our Lessons Different?
Teachers Save Time

Reduce lesson planning and gain freedom in the classroom. With all students busy, the teacher can casually roam around the classroom and offer assistance wherever needed.
Students Learn by Doing

Minutes after beginning each lesson, classes often become noisy. At times, very noisy. Why? Students, in pairs or small groups, actively engage in completing the lesson task. They use English to learn English.
Listening, Speaking, Reading & Writing

Oral communication is important. Listening and speaking have priority in our lessons; students need to carefully listen to each other. Reading is also important for the success of the lessons. The amount of writing required varies.
Fun for Teachers & Students

We believe students learn better when having fun. Our lessons range from silly to serious but each has a solid task-specific educational goal including grammar usage, vocabulary building and fluency improvement to name a few.
Special Offer: The Juicy Book of Lessons
The Juicy Book of lessons is an e-book packed with over 1,000 ready to use lessons, games, ice breakers and activities for the ESL / EFL classroom. An English teacher's MUST HAVE for those times when you're running short of ideas.





Only $9:90
Subscribe to the mailing list above to get a new free lesson every week
I have been using these fun EFL4U lessons since the site began many years ago! Apart from making my life easier where time is concerned, the lessons are really well prepared, educational, fun to use and my students love them!
Well done, Kurt!
Jocema Lima
Curitiba, Brazil
Dear Kurt,
Congratulations! Your lesson worksheets are SUPERB!!! My students really enjoy them and are thrilled with the fun activities. I really can't say enough. Your worksheets are some of the best bargains on the Net. Thanks again for offering these fun and refreshing lessons to ESL EFL teachers on a weekly basis. Best wishes; keep up the great work!
Sincerely,
Chris Polonis - ESL Teacher
From Toronto, Canada

Hi Kurt!,
What a wonderful site you've got there, thanks for all the great ideas. I teach high school girls who really dislike studying, but even they manage to get some enjoyment from these lessons.
We EFL teachers need more sites like these.
I integrate your lessons into my syllabus so girls never get bored. For them, English should be entertainment and while most textbooks are short on that, your lessons are not.
Keep up the wonderful work!
Regards,
Elizabeth Longo Seong Am Girls' Information Industrial High School
From Seoul, Korea

Hello Kurt,
I'm very impressed with the amount of work you have invested in these excellent lesson worksheets. Your efforts have resulted in some very fine material which my students enjoy. Thanks!
Jim
From China

Dear Kurt,
A HUGE THANKS !!
Because of what you do at EFL4U, my school is one of the best in the city. I think it's really important for students to have fun, to act, to react and learn English by using it! With your active lessons, my students do all of that, and more….
Grammar is taught after or before the lessons… and all of my students learn while having lots of fun.
Kurt, EFL4U IS THE BEST THING THAT I HAVE RECEIVED. EVERY YEAR, YOU ARE MY SANTA CLAUS.
Betty Tokeshi - EFL Teacher
From Presidente Prudente - Brazil