GET A FREE LESSON
EVERY WEEK

Words with "PH" Crossword Puzzle - July 04, 2022
Lesson Collection #5 - Lesson 24b
Time:
45+|
Level:
JHS~Adult|
Mode:
Pair Work Activity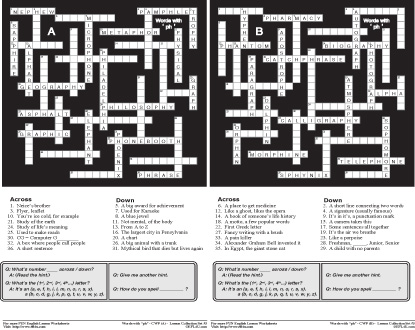 Who doesn't love a good crossword puzzle? Students will have a lot of fun working in pairs to solve the puzzle. Each student has half the answers printed on the worksheet along with given hints below the puzzle to help partners solve the missing letters.

This puzzle's theme is Words containing the letters "PH". All of the answers on the puzzle contain those two letters including Trophy, Microphone, Orphan, Atmosphere, Sapphire and a host of others.

While students busily work at filling in the answers, they will also be working with regular numbers (What's number seven across?) and ordinals (What's the second letter?).

This is also a simple yet effective way to practice the use of articles (It's an R. It's a K. It's an L, etc.)

For similar style lessons, see:
Fictional Characters (Lesson Collection Set #5 - Lesson 24a)
Compound Words (Lesson Collection Set #5 - Lesson 24c)
Words with Silent Letters (Lesson Collection Set #5 - Lesson 24d)
Same First & Last Letter Words (Lesson Collection Set #5 - Lesson 24e) - and
Anagrams (Lesson Collection Set #5 - Lesson 24f).


What Makes Our Lessons Different?
Teachers Save Time

Reduce lesson planning and gain freedom in the classroom. With all students busy, the teacher can casually roam around the classroom and offer assistance wherever needed.
Students Learn by Doing

Minutes after beginning each lesson, classes often become noisy. At times, very noisy. Why? Students, in pairs or small groups, actively engage in completing the lesson task. They use English to learn English.
Listening, Speaking, Reading & Writing

Oral communication is important. Listening and speaking have priority in our lessons; students need to carefully listen to each other. Reading is also important for the success of the lessons. The amount of writing required varies.
Fun for Teachers & Students

We believe students learn better when having fun. Our lessons range from silly to serious but each has a solid task-specific educational goal including grammar usage, vocabulary building and fluency improvement to name a few.
Special Offer: The Juicy Book of Lessons
The Juicy Book of lessons is an e-book packed with over 1,000 ready to use lessons, games, ice breakers and activities for the ESL / EFL classroom. An English teacher's MUST HAVE for those times when you're running short of ideas.





Only $9:90
Subscribe to the mailing list above to get a new free lesson every week
Dear Kurt,
I'd like to tell you that I find the activities wonderful. I teach young learners, adolescents, young adults, adults… and they work with all of them. All the lessons and worksheets are very creative and they foster my students' motivation and participation.
Congratulations!!
Julieta Pagani
From Buenos Aires, Argentina

I use your activities a lot with my students and they find them really motivating!!!
They ask for them!!!!!! =) They have real fun!!!
Thanks to you, Kurt.
Nil
From Argentina

Dear Kurt,
Your EFL4U activities are honestly among the very best that I've discovered on the web. They are consistently imaginative, high quality and engaging. The students are motivated and the classes are lively.
Sherry Maisey - ESL instructor
From Vancouver, Canada

Dear Kurt,
Your site is absolutely great, my students love your worksheets and we all have learned a lot. Congratulations to the whole staff for a marvelous job.
Thanks a lot….Laura
My email: Mrs. Laura de Montes
From Mexico

Hey Kurt,
Your lesson worksheets are the best EFL resource I've ever used!
Margaret Holt
From Australia