GET A FREE LESSON
EVERY WEEK

Modern Inventions - November 28, 2022
Paid LessonLesson Collection #3 - Lesson 16a
Time:
50+|
Level:
SHS~Adult|
Mode:
Pair Work Activity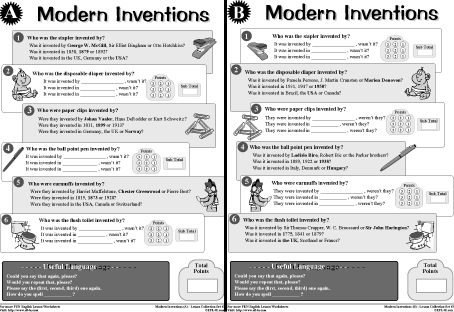 Do you know who the stapler was invented by? Or when? Or where? How about paper clips? Or the disposable diaper?

In groups of three, students ask and answers questions in the passive voice about the origin of common objects. For example:
Student A: Who was the stapler invented by? Was it invented by George W. McGill, Sir Elliot Bingham or Otto Hotchkiss?
Student B: It was invented by (guesses a name), wasn't it?
Student A (if incorrect): Sorry, it wasn't invented by him. Try again.
Student B: It was invented by (guesses another name), wasn't it?
Student A (correct): Yes, that's right!

Student A continues with the next question: Was it invented in 1858, 1879 or 1892?
Student B: It was invented in (guesses a year), wasn't it?

And on it goes until Who, When and Where have all been answered.

There are six inventions in total, three for each student in the pair.
A different version of this lesson is available. See:
Important Discoveries (See Lesson 16b below).
What Makes Our Lessons Different?
Teachers Save Time

Reduce lesson planning and gain freedom in the classroom. With all students busy, the teacher can casually roam around the classroom and offer assistance wherever needed.
Students Learn by Doing

Minutes after beginning each lesson, classes often become noisy. At times, very noisy. Why? Students, in pairs or small groups, actively engage in completing the lesson task. They use English to learn English.
Listening, Speaking, Reading & Writing

Oral communication is important. Listening and speaking have priority in our lessons; students need to carefully listen to each other. Reading is also important for the success of the lessons. The amount of writing required varies.
Fun for Teachers & Students

We believe students learn better when having fun. Our lessons range from silly to serious but each has a solid task-specific educational goal including grammar usage, vocabulary building and fluency improvement to name a few.
Special Offer: The Juicy Book of Lessons
The Juicy Book of lessons is an e-book packed with over 1,000 ready to use lessons, games, ice breakers and activities for the ESL / EFL classroom. An English teacher's MUST HAVE for those times when you're running short of ideas.





Only $9:90
Subscribe to the mailing list above to get a new free lesson every week
Dear Kurt,
I have been teaching English in Latvia for 5 years now to such varied student groups as Music College, military and Bible College students. I came across your site about a year ago and it has been incredibly helpful in my teaching. I have found all of my students - from the highest ranking military officer to the most ordinary school-kid - enjoy your lessons. The worksheets and the ideas are fantastic! Thank you so much for making the English teacher's work easier, more varied and much more enjoyable!!!
Inga Zirka
From Latvia

My life as an English teacher changed dramatically when I purchased all of the great lessons from EFL4U.com. I use them constantly! My students always light up when I bring one to class. Truly fab. Fun, creative, educational.
Pascal Benedict
Martinique, France
I have been using these fun EFL4U lessons since the site began many years ago! Apart from making my life easier where time is concerned, the lessons are really well prepared, educational, fun to use and my students love them!
Well done, Kurt!
Jocema Lima
Curitiba, Brazil
Dear Kurt,
There are millions of EFL ESL books here in the library, but I use your worksheets more than any of the others combined.
I love them. My students love them.
Sincerely,
Margaret Holt - ESL Teacher,
From Australia

Dear Kurt,
Your site is absolutely great, my students love your worksheets and we all have learned a lot. Congratulations to the whole staff for a marvelous job.
Thanks a lot….Laura
My email: Mrs. Laura de Montes
From Mexico