GET A FREE LESSON
EVERY WEEK

Similes 1 (Animals) - October 19, 2020
Lesson Collection #1 - Lesson 6a
Time:
30+|
Level:
JHS~Adult|
Mode:
Pair Work Activity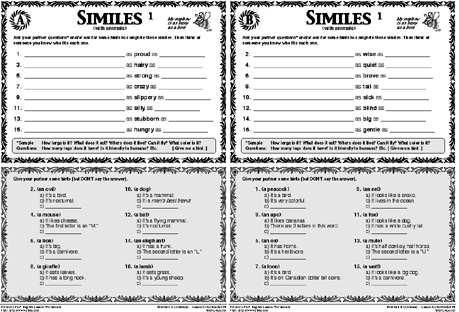 At first, students ask each other questions and/or offer hints to identify the common object of these similes. For example, the student with Worksheet A reads:

... as proud as...

Her partner looks at the bottom of Worksheet B to find the answer (peacock). But he does not say the answer. Instead, he reads the printed hints under the word peacock:

A] It's a bird.
B] It's very colorful.
C] The student thinks of a hint. This large bird spreads out his tail feathers to attract a mate.

Eventually the partner will ask Is it a peacock?
Her partner replies: That's right. Do you know anyone who is as proud as a peacock?
She may say: An Olympic gold winner is as proud as a peacock, or
My neighbor is as proud as a peacock, etc.

Other unfinished similes on the worksheets include:
... as gentle as ...
... as tall as ... and
... as hungry as ...

There are 8 common English similes on each worksheet for a total of 16. Higher-ability students will enjoy discussing the origin and / or the meaning of the similes on the worksheet. All students will enjoy using them to describe each other and themselves.

This can also be used as a comparative lesson as well. He's as brave as a lion or He's braver than a lion or superlative metaphors He's the bravest lion I know!

There are two similar lessons:
Similes 2 (objects) (Lesson Collection Set #1 - Lesson 06b below) -and-
Similes 3 (non-count objects) (Lesson Collection Set #1 - Lesson 06c below.
What Makes Our Lessons Different?
Teachers Save Time

Reduce lesson planning and gain freedom in the classroom. With all students busy, the teacher can casually roam around the classroom and offer assistance wherever needed.
Students Learn by Doing

Minutes after beginning each lesson, classes often become noisy. At times, very noisy. Why? Students, in pairs or small groups, actively engage in completing the lesson task. They use English to learn English.
Listening, Speaking, Reading & Writing

Oral communication is important. Listening and speaking have priority in our lessons; students need to carefully listen to each other. Reading is also important for the success of the lessons. The amount of writing required varies.
Fun for Teachers & Students

We believe students learn better when having fun. Our lessons range from silly to serious but each has a solid task-specific educational goal including grammar usage, vocabulary building and fluency improvement to name a few.
Special Offer: The Juicy Book of Lessons
The Juicy Book of lessons is an e-book packed with over 1,000 ready to use lessons, games, ice breakers and activities for the ESL / EFL classroom. An English teacher's MUST HAVE for those times when you're running short of ideas.





Only $9:90
Subscribe to the mailing list above to get a new free lesson every week
Dear EFL4U,
Just to let you know, I surf the web all the time. Your site is still the only one I tell my friends and colleagues about. It's the only one really worth it! This is not flattery. Just honest. Ask my students, they'll tell you, too! You've got to be a genius,
Vlad Gobronzchek
From the USA

Dear Kurt,
The result of your workseets in the classroom is amazing. Students go crazy about this new kind of practice material, which is completely different from what they can find in Textbooks.
On the other hand, all worksheets foster speaking and interactions, which are so difficult to achive. I hope this site will keep on working hard to provide us, not so imaginative teachers, with ready-made quality material for use in the classroom.
Congratulations!
María
From Argentina

Hi Kurt,
Your customer service is excellent and I think you have a great product. I am using the lessons and I love the fact that I have ready made materials and instructions. These lessons are so great for teaching privately, in institutes and also add to my classroom themes in university.
Keep up the good work.
Kay
From UK

Hey Kurt,
This is absolutely the best site i've ever seen for EFL teaching materials!
Thanks so much!
Kate
From South Korea

I love your material and use it often. Your material is the best on the web and a great value. I hope to see more material in the near future.
Once again thanks,
Mike Stockwell
From Gifu, Japan