GET A FREE LESSON
EVERY WEEK

All At The Same Time - July 15, 2019
Paid LessonLesson Collection #2 - Lesson 4
Time:
15+|
Level:
JHS~Adult|
Mode:
Small Group Activity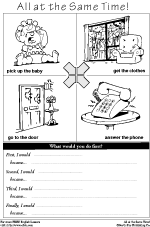 This is another "psychology test," in which students have to choose among four things that occur at the same time - each with their own "psychological" interpretation. Using the conditional use of "would" to make their choices, students then explain the reasons behind their choices.
There are four situations illustrated on the worksheet. 1) The phone is ringing. 2) Someone is at the door. 3) The baby's crying (and needs attention). 4) It's starting to rain and the clothes are getting wet.
Since everything begins to occur at the same time, students must decide what they would do first, second, third and fourth. Each situation has a "psychological interpretation."
No one can remain complacent while doing this lesson. After prioritizing one's choices and learning the hidden "psychological" meanings, students are guaranteed to strongly agree or disagree with the results. To do this, they'll have to use English!!
This lesson is a wonderful ice-breaker or wrap up at the end of a class. Everyone will have an opinion, about themselves and their classmates. A very fun and natural generator of conversation.
What Makes Our Lessons Different?
Teachers Save Time

Reduce lesson planning and gain freedom in the classroom. With all students busy, the teacher can casually roam around the classroom and offer assistance wherever needed.
Students Learn by Doing

Minutes after beginning each lesson, classes often become noisy. At times, very noisy. Why? Students, in pairs or small groups, actively engage in completing the lesson task. They use English to learn English.
Listening, Speaking, Reading & Writing

Oral communication is important. Listening and speaking have priority in our lessons; students need to carefully listen to each other. Reading is also important for the success of the lessons. The amount of writing required varies.
Fun for Teachers & Students

We believe students learn better when having fun. Our lessons range from silly to serious but each has a solid task-specific educational goal including grammar usage, vocabulary building and fluency improvement to name a few.
Special Offer: The Juicy Book of Lessons
The Juicy Book of lessons is an e-book packed with over 1,000 ready to use lessons, games, ice breakers and activities for the ESL / EFL classroom. An English teacher's MUST HAVE for those times when you're running short of ideas.





Only $9:90
Subscribe to the mailing list below to get a new free lesson every week
Dear Kurt,
The result of your workseets in the classroom is amazing. Students go crazy about this new kind of practice material, which is completely different from what they can find in Textbooks.
On the other hand, all worksheets foster speaking and interactions, which are so difficult to achive. I hope this site will keep on working hard to provide us, not so imaginative teachers, with ready-made quality material for use in the classroom.
Congratulations!
María
From Argentina

I have been using these fun EFL4U lessons since the site began many years ago! Apart from making my life easier where time is concerned, the lessons are really well prepared, educational, fun to use and my students love them!
Well done, Kurt!
Jocema Lima
Curitiba, Brazil
Dear Kurt,
Your lessons are awesome!!!!
I just translate them over to Spanish and they work like a charm.
Gail Tuthill
From St. Charles, MI.

Hi Kurt,
I just want to thank you for all your hard work on the website & the many ideas & worksheets you provide for ESL teachers all over the world.
Thanks again,
Karen G.
From Georgia, USA

Dear Kurt,
I have been teaching English in Latvia for 5 years now to such varied student groups as Music College, military and Bible College students. I came across your site about a year ago and it has been incredibly helpful in my teaching. I have found all of my students - from the highest ranking military officer to the most ordinary school-kid - enjoy your lessons. The worksheets and the ideas are fantastic! Thank you so much for making the English teacher's work easier, more varied and much more enjoyable!!!
Inga Zirka
From Latvia


JOIN OUR MAILING LIST
Receive an email every week with access to a new English lesson plan or worksheet.