GET A FREE LESSON
EVERY WEEK

Similes 2 (Objects) - March 06, 2023
Lesson Collection #1 - Lesson 6b
Time:
30+|
Level:
JHS~Adult|
Mode:
Pair Work Activity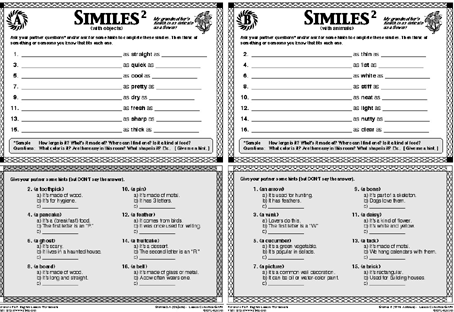 This is the same as above except in this case, students are working with countable objects rather than animals. As in the above lesson, students ask each other questions and/or offer hints to identify the common object of these similes. Then, students add a subject to make the simile complete.
My cousin's as straight as........an arrow.
My best friend's as cool as.........a cucumber. And
My neck is as stiff as........a board.
There are 8 common English similes on each worksheet for a total of 16.
Higher-ability students can discuss the origin and / or the meaning of the similes as well as introduce some from their own cultures and languages.
This can also be used as a comparative lesson as well; comparing two things of equal value (She's as thin as a toothpick) or of different value (She's thinner than a toothpick). And for some extra-special practice, this lesson can be used to work with superlative metaphors (She's the thinnest toothpick I know!).
There are two similar lessons. They are:
Similes 1 (Animals) (See 6a above).
Similes 2 (Non-count objects) (See 6c below).
What Makes Our Lessons Different?
Teachers Save Time

Reduce lesson planning and gain freedom in the classroom. With all students busy, the teacher can casually roam around the classroom and offer assistance wherever needed.
Students Learn by Doing

Minutes after beginning each lesson, classes often become noisy. At times, very noisy. Why? Students, in pairs or small groups, actively engage in completing the lesson task. They use English to learn English.
Listening, Speaking, Reading & Writing

Oral communication is important. Listening and speaking have priority in our lessons; students need to carefully listen to each other. Reading is also important for the success of the lessons. The amount of writing required varies.
Fun for Teachers & Students

We believe students learn better when having fun. Our lessons range from silly to serious but each has a solid task-specific educational goal including grammar usage, vocabulary building and fluency improvement to name a few.
Special Offer: The Juicy Book of Lessons
The Juicy Book of lessons is an e-book packed with over 1,000 ready to use lessons, games, ice breakers and activities for the ESL / EFL classroom. An English teacher's MUST HAVE for those times when you're running short of ideas.





Only $9:90
Subscribe to the mailing list above to get a new free lesson every week
Hi Kurt,
That's one of the greatest ESL sites on the web (the best one when it comes to activities).
Caio Cesar Christiano
From Brazil

Other language-teaching resource books promise exciting, ready-to-copy activities, but these worksheets really deliver the goods.
From The Daily Yomiuri Newspaper - Japan

Dear EFL4U,
I sincerely thank you and your entire team of wonderful professionals who are contributing tremendously to making the teaching of English a lot more fun and easy!
Richard Ment
From South Korea

I love your material and use it often. Your material is the best on the web and a great value. I hope to see more material in the near future.
Once again thanks,
Mike Stockwell
From Gifu, Japan

Hey Kurt,
This is absolutely the best site i've ever seen for EFL teaching materials!
Thanks so much!
Kate
From South Korea