GET A FREE LESSON
EVERY WEEK

Three-Minute Interview 05 - March 25, 2019
Lesson Collection #2 - Lesson 1e
Time:
30+|
Level:
JHS-Adult|
Mode:
Pair Work Activity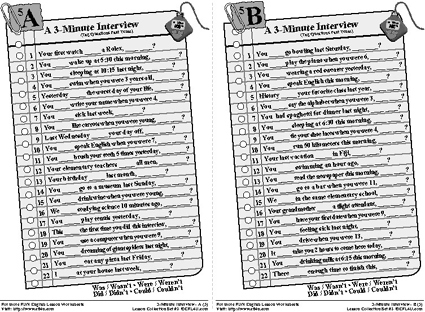 Past Tense Verbs with Tag Questions


Pairs of students need to work fast to ask and answer 22 simple past tense tag questions (per worksheet) in only three minutes. But there's a catch.

All of the target verbs have been removed from the worksheets - students need to quickly insert the (correct) missing verbs. No time to think! Listening is vital for both interviewer and interviewee.

The first time through, pairs may need more than ten minutes to complete 22 questions. But they will cut the time in half and more after a couple of tries. When they do, they'll smile with accomplishment.

The missing past tense verbs are: was, wasn't, were, weren't, did, didn't, could and couldn't.

These Lesson Worksheets were developed to assist students with fundamental verb usage, building fluency, listening, pronouns and subject / verb agreement.
The following are some of the questions found on these worksheets:
You _____ eat any pizza last Friday, _____ ____?
You _____ swimming an hour ago, _______ _____?
It _____ take you 2 hours to come here today, ____ _____?
What Makes Our Lessons Different?
Teachers Save Time

Reduce lesson planning and gain freedom in the classroom. With all students busy, the teacher can casually roam around the classroom and offer assistance wherever needed.
Students Learn by Doing

Minutes after beginning each lesson, classes often become noisy. At times, very noisy. Why? Students, in pairs or small groups, actively engage in completing the lesson task. They use English to learn English.
Listening, Speaking, Reading & Writing

Oral communication is important. Listening and speaking have priority in our lessons; students need to carefully listen to each other. Reading is also important for the success of the lessons. The amount of writing required varies.
Fun for Teachers & Students

We believe students learn better when having fun. Our lessons range from silly to serious but each has a solid task-specific educational goal including grammar usage, vocabulary building and fluency improvement to name a few.
Special Offer: The Juicy Book of Lessons
The Juicy Book of lessons is an e-book packed with over 1,000 ready to use lessons, games, ice breakers and activities for the ESL / EFL classroom. An English teacher's MUST HAVE for those times when you're running short of ideas.





Only $9:90
Subscribe to the mailing list below to get a new free lesson every week
Hi Kurt,
Your customer service is excellent and I think you have a great product. I am using the lessons and I love the fact that I have ready made materials and instructions. These lessons are so great for teaching privately, in institutes and also add to my classroom themes in university.
Keep up the good work.
Kay
From UK

Dear Kurt,
Your EFL4U activities are honestly among the very best that I've discovered on the web. They are consistently imaginative, high quality and engaging. The students are motivated and the classes are lively.
Sherry Maisey - ESL instructor
From Vancouver, Canada

Dear Kurt,
There are millions of EFL ESL books here in the library, but I use your worksheets more than any of the others combined.
I love them. My students love them.
Sincerely,
Margaret Holt - ESL Teacher,
From Australia

Thanks for all your lessons. They have been a great help.
My students and I have lots of fun using them.
Julie
From Italy

Hi Kurt!,
What a wonderful site you've got there, thanks for all the great ideas. I teach high school girls who really dislike studying, but even they manage to get some enjoyment from these lessons.
We EFL teachers need more sites like these.
I integrate your lessons into my syllabus so girls never get bored. For them, English should be entertainment and while most textbooks are short on that, your lessons are not.
Keep up the wonderful work!
Regards,
Elizabeth Longo Seong Am Girls' Information Industrial High School
From Seoul, Korea


JOIN OUR MAILING LIST
Receive an email every week with access to a new English lesson plan or worksheet.