GET A FREE LESSON
EVERY WEEK

Thanksgiving Word Circle - November 22, 2021
Paid LessonHoliday Lesson Set - Lesson 06a
Time:
20+|
Level:
JHS~Adult|
Mode:
Pair / Group Activity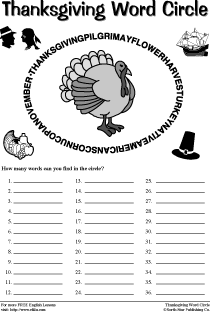 As an icebreaker, a party game or an introduction into the Thanksgiving holidays, this lesson is perfect. Going clockwise around the circle, students try to find as many words as they can by examining the Word Circle on this worksheet.

There are well over 50 words that can be found, among them are:
an
in
rim
may
lower
owe
vest
we
flow
pilgrim
low
flower
This is a really short and sweet lesson; students love it!
This worksheet, like the other Word Circle lessons is short, but a popular activity for students of all ages and abilities.

For similar lessons, see:
Valentine's Word Circle (02a above)
St. Patrick Word Circle (03c above)
Easter Word Circle (04b above)
Halloween Word Circle (05b above) -and-
Christmas Word Circle (07d below).
What Makes Our Lessons Different?
Teachers Save Time

Reduce lesson planning and gain freedom in the classroom. With all students busy, the teacher can casually roam around the classroom and offer assistance wherever needed.
Students Learn by Doing

Minutes after beginning each lesson, classes often become noisy. At times, very noisy. Why? Students, in pairs or small groups, actively engage in completing the lesson task. They use English to learn English.
Listening, Speaking, Reading & Writing

Oral communication is important. Listening and speaking have priority in our lessons; students need to carefully listen to each other. Reading is also important for the success of the lessons. The amount of writing required varies.
Fun for Teachers & Students

We believe students learn better when having fun. Our lessons range from silly to serious but each has a solid task-specific educational goal including grammar usage, vocabulary building and fluency improvement to name a few.
Special Offer: The Juicy Book of Lessons
The Juicy Book of lessons is an e-book packed with over 1,000 ready to use lessons, games, ice breakers and activities for the ESL / EFL classroom. An English teacher's MUST HAVE for those times when you're running short of ideas.





Only $9:90
Subscribe to the mailing list above to get a new free lesson every week
I use your activities a lot with my students and they find them really motivating!!!
They ask for them!!!!!! =) They have real fun!!!
Thanks to you, Kurt.
Nil
From Argentina

Dear Kurt,
Your EFL4U activities are honestly among the very best that I've discovered on the web. They are consistently imaginative, high quality and engaging. The students are motivated and the classes are lively.
Sherry Maisey - ESL instructor
From Vancouver, Canada

Hello, Kurt!
It's always very stimulating to get my e-mail every Sunday morning because I know there will be one of your lessons in it. I read them every week and have tried to put them in practice. I must say they really work! Thanks a lot for the great lessons. As a teacher and teacher trainer, sometimes I run out of ideas. Your lessons are very important, not only for me but for my trainees as well.
Best regards,
Ilza Nascimento
From Londrina, Brazil

My life as an English teacher changed dramatically when I purchased all of the great lessons from EFL4U.com. I use them constantly! My students always light up when I bring one to class. Truly fab. Fun, creative, educational.
Pascal Benedict
Martinique, France
Thanks for all your lessons. They have been a great help.
My students and I have lots of fun using them.
Julie
From Italy