GET A FREE LESSON
EVERY WEEK

Weekend Projects - July 26, 2021
Paid LessonLesson Collection #5 - Lesson 15
Time:
40+|
Level:
HS~Adult|
Mode:
Small Group Activity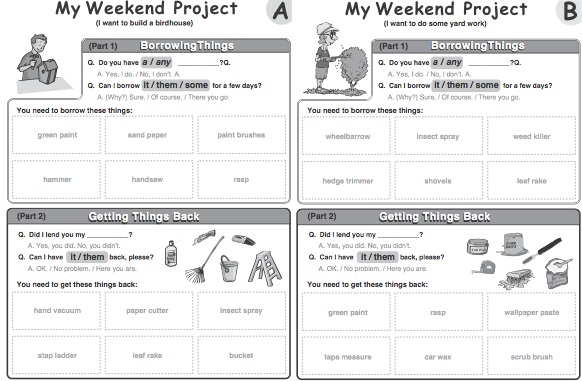 This is a high-energy activity in which students need to lend and borrow items in order to do a weekend project. There are four Weekend Project worksheets included with this lesson as well as an additional worksheet which has all 24 items which students will need to complete their projects.
The four Weekend Projects are:
Building a birdhouse
Doing yard work
Wallpapering the bedroom -and-
Washing the car.
In groups of four, students have to ask each other if they have the things they need to do their weekend project. Since everyone is trying to borrow six items as fast as they can AND since everyone needs to lend six items out, the classroom will erupt in excitement.
But that's only half the lesson. Once students have borrowed everything they need to do their weekend project, they must then ask to get the items back which they had lent out. This lesson is guaranteed to make the class bristle with animated conversation.
What Makes Our Lessons Different?
Teachers Save Time

Reduce lesson planning and gain freedom in the classroom. With all students busy, the teacher can casually roam around the classroom and offer assistance wherever needed.
Students Learn by Doing

Minutes after beginning each lesson, classes often become noisy. At times, very noisy. Why? Students, in pairs or small groups, actively engage in completing the lesson task. They use English to learn English.
Listening, Speaking, Reading & Writing

Oral communication is important. Listening and speaking have priority in our lessons; students need to carefully listen to each other. Reading is also important for the success of the lessons. The amount of writing required varies.
Fun for Teachers & Students

We believe students learn better when having fun. Our lessons range from silly to serious but each has a solid task-specific educational goal including grammar usage, vocabulary building and fluency improvement to name a few.
Special Offer: The Juicy Book of Lessons
The Juicy Book of lessons is an e-book packed with over 1,000 ready to use lessons, games, ice breakers and activities for the ESL / EFL classroom. An English teacher's MUST HAVE for those times when you're running short of ideas.





Only $9:90
Subscribe to the mailing list above to get a new free lesson every week
Other language-teaching resource books promise exciting, ready-to-copy activities, but these worksheets really deliver the goods.
From The Daily Yomiuri Newspaper - Japan

Dear Kurt,
I have been teaching English in Latvia for 5 years now to such varied student groups as Music College, military and Bible College students. I came across your site about a year ago and it has been incredibly helpful in my teaching. I have found all of my students - from the highest ranking military officer to the most ordinary school-kid - enjoy your lessons. The worksheets and the ideas are fantastic! Thank you so much for making the English teacher's work easier, more varied and much more enjoyable!!!
Inga Zirka
From Latvia

Hey Kurt,
This is absolutely the best site i've ever seen for EFL teaching materials!
Thanks so much!
Kate
From South Korea

Hi Kurt,
Your customer service is excellent and I think you have a great product. I am using the lessons and I love the fact that I have ready made materials and instructions. These lessons are so great for teaching privately, in institutes and also add to my classroom themes in university.
Keep up the good work.
Kay
From UK

Dear Kurt,
Congratulations! Your lesson worksheets are SUPERB!!! My students really enjoy them and are thrilled with the fun activities. I really can't say enough. Your worksheets are some of the best bargains on the Net. Thanks again for offering these fun and refreshing lessons to ESL EFL teachers on a weekly basis. Best wishes; keep up the great work!
Sincerely,
Chris Polonis - ESL Teacher
From Toronto, Canada