GET A FREE LESSON
EVERY WEEK

The Lion and the Mouse - October 02, 2023
Lesson Collection #3 - Lesson 2
Time:
50+|
Level:
JHS~Adult|
Mode:
Pair Work Activity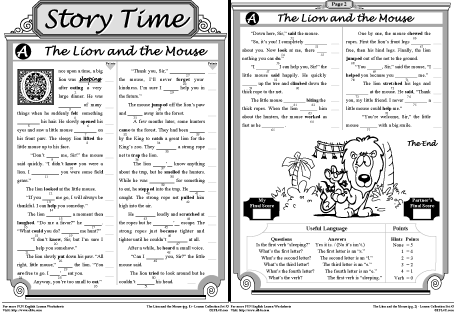 In this pair work lesson, students try to anticipate the verbs in an Aesop's Fable. Students have only half of the verbs written on their worksheets; they'll need to work closely with their partners to acquire the missing verbs.
Also built into this lesson is a point system, the better students are at anticipating the missing verbs, the higher their scores will be.
Not only is this lesson an excellent review of verbs and verb tenses, but it also has students working with ordinal numbers, from first to seventy-seventh!
There is a similar worksheet available:
The King Who Loved Stories (See Lesson Collection Set #5 - Lesson 20).
What Makes Our Lessons Different?
Teachers Save Time

Reduce lesson planning and gain freedom in the classroom. With all students busy, the teacher can casually roam around the classroom and offer assistance wherever needed.
Students Learn by Doing

Minutes after beginning each lesson, classes often become noisy. At times, very noisy. Why? Students, in pairs or small groups, actively engage in completing the lesson task. They use English to learn English.
Listening, Speaking, Reading & Writing

Oral communication is important. Listening and speaking have priority in our lessons; students need to carefully listen to each other. Reading is also important for the success of the lessons. The amount of writing required varies.
Fun for Teachers & Students

We believe students learn better when having fun. Our lessons range from silly to serious but each has a solid task-specific educational goal including grammar usage, vocabulary building and fluency improvement to name a few.
Special Offer: The Juicy Book of Lessons
The Juicy Book of lessons is an e-book packed with over 1,000 ready to use lessons, games, ice breakers and activities for the ESL / EFL classroom. An English teacher's MUST HAVE for those times when you're running short of ideas.





Only $9:90
Subscribe to the mailing list above to get a new free lesson every week
I haven't yet found any materials which are as exciting and as ready to use as yours!
Joy Jarmen
From Japan

Hey Kurt,
This is absolutely the best site i've ever seen for EFL teaching materials!
Thanks so much!
Kate
From South Korea

Other language-teaching resource books promise exciting, ready-to-copy activities, but these worksheets really deliver the goods.
From The Daily Yomiuri Newspaper - Japan

Hello Kurt,
I'm very impressed with the amount of work you have invested in these excellent lesson worksheets. Your efforts have resulted in some very fine material which my students enjoy. Thanks!
Jim
From China

Dear Kurt,
Your lessons are awesome!!!!
I just translate them over to Spanish and they work like a charm.
Gail Tuthill
From St. Charles, MI.