GET A FREE LESSON
EVERY WEEK

Compound Words Crossword Puzzle - March 16, 2020
Lesson Collection #5 - Lesson 24c
Time:
45+|
Level:
JhS~Adult|
Mode:
Pair Work Activity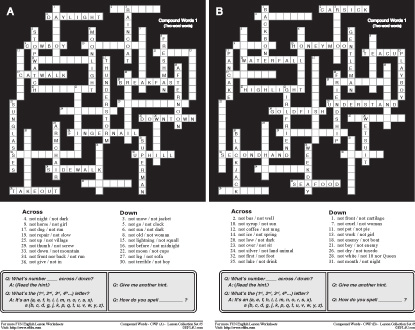 This puzzle, like all the others in this series, is unique because it requires two students to solve the whole puzzle. Each worksheet has half the answers printed along with hints. Students ask their partners for those hints to complete the missing answers.

This puzzle's theme is Compound Words. All of the answers on the puzzle are two-word combinations that result in a single word. Answers include Breakfast, Armchair, Honeymoon, Pancake, Raincoat and a host of others.

While students busily work at solving the puzzle, they will also be working with regular numbers (What's number seven across?) and ordinals (What's the second letter?).

This is also a simple yet effective way to practice the use of articles (It's an R. It's a K. It's an L, etc.)

For similar style lessons, see:
Fictional Characters (Lesson Collection Set #5 - Lesson 24a)
Words with "PH" (Lesson Collection Set #5 - Lesson 24b)
Words with Silent Letters (Lesson Collection Set #5 - Lesson 24d)
Same First & Last Letter Words (Lesson Collection Set #5 - Lesson 24e) - and
Anagrams (Lesson Collection Set #5 - Lesson 24f).


What Makes Our Lessons Different?
Teachers Save Time

Reduce lesson planning and gain freedom in the classroom. With all students busy, the teacher can casually roam around the classroom and offer assistance wherever needed.
Students Learn by Doing

Minutes after beginning each lesson, classes often become noisy. At times, very noisy. Why? Students, in pairs or small groups, actively engage in completing the lesson task. They use English to learn English.
Listening, Speaking, Reading & Writing

Oral communication is important. Listening and speaking have priority in our lessons; students need to carefully listen to each other. Reading is also important for the success of the lessons. The amount of writing required varies.
Fun for Teachers & Students

We believe students learn better when having fun. Our lessons range from silly to serious but each has a solid task-specific educational goal including grammar usage, vocabulary building and fluency improvement to name a few.
Special Offer: The Juicy Book of Lessons
The Juicy Book of lessons is an e-book packed with over 1,000 ready to use lessons, games, ice breakers and activities for the ESL / EFL classroom. An English teacher's MUST HAVE for those times when you're running short of ideas.





Only $9:90
Subscribe to the mailing list above to get a new free lesson every week
Dear Kurt,
Your site is absolutely great, my students love your worksheets and we all have learned a lot. Congratulations to the whole staff for a marvelous job.
Thanks a lot….Laura
My email: Mrs. Laura de Montes
From Mexico

I love your material and use it often. Your material is the best on the web and a great value. I hope to see more material in the near future.
Once again thanks,
Mike Stockwell
From Gifu, Japan

Dear Kurt,
I'd like to thank you for the wonderful worksheets; they are very useful, time-saving as well as entertaining,
especially for students who don't want
to learn English.
Kala Rasiah
From Malaysia

Dear Kurt,
Your lessons are professionally done and most of all fun!
We all find your materials more than just a fun filler even though they do liven things up.
I post each of your lessons on a teacher's exchange board Mondays at school for the other trainers. The feedback has been nothing but praise.
Keep up the good work.
Margaret Ann Doty - EFL Trainer
From Darmstadt, Germany

Hey Kurt,
This is absolutely the best site i've ever seen for EFL teaching materials!
Thanks so much!
Kate
From South Korea