GET A FREE LESSON
EVERY WEEK

Criss-Cross Questions (2) - July 19, 2021
Lesson Collection #3 - Lesson 20b
Time:
40+|
Level:
JHS~Adult|
Mode:
Pair / Small Group Activity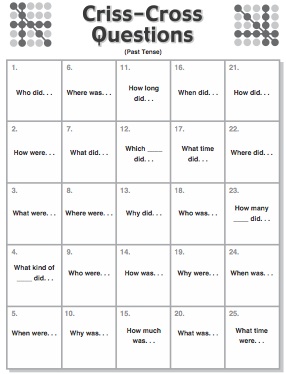 This worksheet focuses on Present Tense verbs. Students will have a lot of fun with this Tic-Tac-Toe style activity. Pairs or small groups of students ask Present Tense questions from the worksheet in order to place a marker. But, if the English grammar is incorrect, no marker can be placed.

Students begin with the printed cue and complete the question. For example, What are . . . ? Where does . . . ? What time do . . . ? and When is . . . ?

There are 25 present tense question starters on the worksheet. Student or teams try to be the first to place five markers in a row.

In pairs or small groups, students ask their opponent a question from the worksheet in order to place the marker. But, if the English grammar is incorrect, no marker can be placed.

Example #1: Where are your shoe? is incorrect (shoes!) so the opponent can not place a marker. Example #2: When is your birthday? is a good question (grammatically) so the opponent places a marker on that square.

But, that's only half of the activity. The other half requires the other opponent to answer the question - not only correctly, but also with correct grammar. This ensures that students will need to listen carefully to each other.

Note: Normal Tic-Tac-Toe uses a 3 x 3 grid, but these worksheets introduce a 5 x 5 grid which takes a lot more time to finish.

There are 8 similar worksheets available. They are:
Criss-Cross Questions #1 (Past Tense - 20a above)
Criss-Cross Questions #3 (Mixed Tenses - 20c below)
Criss-Cross Questions #4 (Tag Questions Past - 20d below)
Criss-Cross Questions #5 (Tag Questions Present - 20e below)
Criss-Cross Questions #6 (Tag Questions Mixed - 20f below)
Criss-Cross Questions #7 (Regular & Tag Questions Past - 20g below)
Criss-Cross Questions #8 (Regular & Tag Questions Present - 20h below) -and-
Criss-Cross Questions #9 (Regular & Tag Questions Mixed - 20i below).
What Makes Our Lessons Different?
Teachers Save Time

Reduce lesson planning and gain freedom in the classroom. With all students busy, the teacher can casually roam around the classroom and offer assistance wherever needed.
Students Learn by Doing

Minutes after beginning each lesson, classes often become noisy. At times, very noisy. Why? Students, in pairs or small groups, actively engage in completing the lesson task. They use English to learn English.
Listening, Speaking, Reading & Writing

Oral communication is important. Listening and speaking have priority in our lessons; students need to carefully listen to each other. Reading is also important for the success of the lessons. The amount of writing required varies.
Fun for Teachers & Students

We believe students learn better when having fun. Our lessons range from silly to serious but each has a solid task-specific educational goal including grammar usage, vocabulary building and fluency improvement to name a few.
Special Offer: The Juicy Book of Lessons
The Juicy Book of lessons is an e-book packed with over 1,000 ready to use lessons, games, ice breakers and activities for the ESL / EFL classroom. An English teacher's MUST HAVE for those times when you're running short of ideas.





Only $9:90
Subscribe to the mailing list above to get a new free lesson every week
Hello, Kurt!
It's always very stimulating to get my e-mail every Sunday morning because I know there will be one of your lessons in it. I read them every week and have tried to put them in practice. I must say they really work! Thanks a lot for the great lessons. As a teacher and teacher trainer, sometimes I run out of ideas. Your lessons are very important, not only for me but for my trainees as well.
Best regards,
Ilza Nascimento
From Londrina, Brazil

Kurt,
I just wanted to say that I think that the lessons you have on your site are great. I have found that the lessons work well in class and my students really enjoy them.
Laura
From Paris, France

Dear Kurt,
I have been teaching English in Latvia for 5 years now to such varied student groups as Music College, military and Bible College students. I came across your site about a year ago and it has been incredibly helpful in my teaching. I have found all of my students - from the highest ranking military officer to the most ordinary school-kid - enjoy your lessons. The worksheets and the ideas are fantastic! Thank you so much for making the English teacher's work easier, more varied and much more enjoyable!!!
Inga Zirka
From Latvia

Dear Kurt,
Congratulations! Your lesson worksheets are SUPERB!!! My students really enjoy them and are thrilled with the fun activities. I really can't say enough. Your worksheets are some of the best bargains on the Net. Thanks again for offering these fun and refreshing lessons to ESL EFL teachers on a weekly basis. Best wishes; keep up the great work!
Sincerely,
Chris Polonis - ESL Teacher
From Toronto, Canada

Dear Kurt,
I'd like to thank you for the wonderful worksheets; they are very useful, time-saving as well as entertaining,
especially for students who don't want
to learn English.
Kala Rasiah
From Malaysia